What I ate Wednesday
So here's goes. I'm taking part in the 'What I ate Wednesday' craze - yippee! Except, I'm not sure whether I'm doing it correctly. It's referred to as a link party and I do love a party. It's also lucky that today was a particularly great day for eats in this house and I'm more than happy to share the photographic evidence.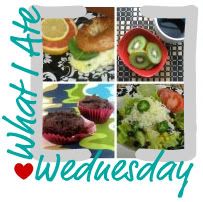 To add to my joys I finally got around to replacing my hand blender set, the absence of which has been a royal pain in the behind. I celebrated by making a sprouted bean hummus - everybody loves hummus and even though this isn't supposed to be a recipe post I thought I'd share the lowdown with y'all anyway....
sprouted bean hummus
1 cup mixed sprouted beans
small bunch parsley
1 garlic clove
1 tsp dark tahini
1/2 tsp harissa paste
juice 1/2 lemon
3 tbsp extra virgin olive oil
salt and pepper
Put it in hand blender and blitz until smooth - add a little water (approx 2 tbsp) to encourage it if it's too thick. The texture should be coarse yet creamy.
Right, back to the eats. Oh yes, then there was my lunch. A quick stir fry of brown rice mixed with some lightly sauteed celery, carrot and purple sprouting broccoli (from a local farm stall no less!) seasoned with shoyu. I threw in some sea vegetable condiment stuff, nooch and some hemp seeds for extra goodness. It was super yummy!
I felt like some fruit later on so I had myself a bowl of strawberries and kiwi. Simple. Delicious. Nuff said.
I didn't photograph my licorice tea although I should say how good it was - I have it with a splash of plant milk, usually whatever I have in the fridge and today that was organic rice milk.
I also had a thought about having a 'What I wore.....' feature on my blog. It immediately became unstuck when I discovered I'm not a very good poser hence the photo of me hiding behind the camera. I poked my head out briefly and then tried to get a full body shot (massive fail). That was as brave as I got. Posing is hard. If anyone is interested I wore some black slacks (the very definition of the word in my opinion), a navy and red stripy blouse, which I tucked into aforementioned slacks and accessorized with a faux leather plaited belt. I pinned a little rosette to the blouse in matching colours (I took it from a different top that I stupidly spilled red wine on and can no longer wear, grrrr) and secured my hair (which is in desperate need of a cut might I add) in an elastic with a vintage scarf to top off the look, which I tied what I like to call rockabilly style. I mustn't forget my earrings. Red apples. They're new. I love 'em.
Food.
Dinner.
We had a fantastic dinner comprising of paprika roasted sweet potato (roughly and erratically chopped - I'm into erratic chopping at the moment. Odd shapes and what not), cous cous mixed with raisins, red onion and chopped flat leaf parsley, a grated courgette (I managed to find Cornish yellow courgettes - so beautiful and full of flavour) and carrot salad tossed with lime juice, thinly sliced chilli and coriander and last but not least some shop bought (but good quality) falafel. And hummus. Mustn't forget the hummus. Not the one I made earlier in the day, a different one.
It was all excellent. Two thumbs up from Hubbie. That made me happy.
I guess that's it. I know I forgot about breakfast so if you're curious it was a toasted bagel with pb & no sugar black cherry jam. It's not a typical breakfast for me but I enjoyed it.
This was fun. I hope we do it again. Until next time party people xxx