What I Ate Wednesday
I was mega mad to miss last weeks What I Ate Wednesday, so I was determined to take part today. Of course, I got off to a ridiculously bad start when I totally forgot to photograph my breakfast, which, as per usual came in the form of oatmeal. It was actually super delicious and creamy.
I like to make my oatmeal with water but today I added some sweetened soy milk towards the end then topped it with chopped banana, strawberries, raspberries, blueberries, walnuts, hemp seeds, amaranth pops and a splash of maple syrup. Suffice to say, it was go-od.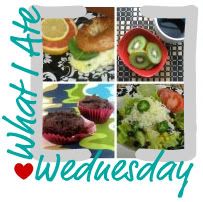 Lunch was.......weird? I had hardly anything to work with in the cupboards and fridge so came up with a crazy caper, olive, hummus pasta dish that I mixed with hemp seeds (I love those things!) and sprinkled with a seed mix I bought yesterday. It's called an omega sprinkle and contains pumpkin, sesame, sunflower, linseed and golden linseed - oh yeah! Needlessly I also threw in a rice cake with hummus and cucumber. I was stuffed.
As we were going out for a drink with an old friend of my Husbands we had the quickest dinner known to man - beans on bagel. I know my American chums think this is a very strange practice but all I can say is, don't knock it till you've tried it. I would love to say they were Heinz Organic Baked Beans but I'm afraid our local Co-op isn't that forward thinking. Yet.
It was so nice not to cook for once and my lovely Hubbie presented me with my marmite clad toasted bagel and beans dinner, which we ate far too quickly before rushing to the pub.
In the pub I had a Gin and Tonic. Delightful.
I snacked all day on my pistachio, pecan and goji berry bites, the recipe for which will be available for all to see on Marcus Samuelsson tomorrow. These bites were an absolute triumph and even though I've made a thousand (slight exaggeration) raw balls in my lifetime these have definitely taken the top spot. Totally yummy in every way.
Additionally, I had two cups of black tea with soya milk and one cup licorice tea plus a load of water.
And that's it. Wednesday Eats. Done.