What I Ate Wednesday
Here I am over at my new home, peasoupeats.com!
Hello!
This is my first full length post since transferring and it feels a wee bit weird but I'm sure it'll take no time at all to get used to it.
Today was another jammed packed day of eats and I'm pleased to share them with you. It's been a long day, so forgive me for just getting to it.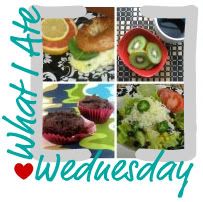 Breakfast
Oats (no surprise there then!) made with water, apple sauce and almond milk - I've discovered adding unsweetened apple sauce really aids in the flavour and creaminess of the oats.  I sprinkled over a little cinnamon, cocoa powder, desiccated coconut and topped with sliced nectarines (from our local farm shop), strawberries (I'm still clinging on even though strawberry season is pretty much past its best - boo), cacao nibs (love those things), omega seed mix and last but not least some amaranth pops. Oh yes, I squeezed over a smidge of sweet freedom (vegan sweetener) too - yum!
Lunch
Hubbie came home for lunch today, which was a bit of a novelty. I liked it. On his way he had to pick up some items we won at auction yesterday - we bid on three items and won two. Not bad. As you can see I'm a vintage nut so the 50's foot stool and 60's cool bags will fit in nicely with the rest of our retro/kitsch stuff. I spent most of the afternoon scrubbing up the stool with a toothbrush and it's looking clean as whistle now - I'll do the bags tomorrow!
Anyway, we ate a bulgar wheat salad, a spring roll and a rice cake spread with lemon and coriander hummus. My bulgar wheat salad contained roughly chopped radishes, tomatoes (the most incredible toms I ever did taste - again from the farm shop!), sun dried tomatoes, roasted red pepper, avocado, parsley and hemp seeds.
The dressing was simple:
1 tsp dijon mustard
1 tsp cider vinegar
juice 1/2 lemon
3 tbsp olive oil
1 tsp vegan sweetener
salt and pepper
Put it in a jam jar and shake until it emulsifies and then stir through salad.
Snack
Rice cake spread with peanut butter and no sugar jam plus a cup of black tea with organic unsweetened soya milk.
Dinner
Dinner was pretty outrageous to be honest and that was mainly down to the marinade I used for the tofu. It was sooooooo good. I adapted a recipe I found on VeganYumYum and quite honestly it rocked my world.
My version went like this:
1 heaped tbsp smooth peanut butter
3 tbsp shoyu
1 tbsp umeboshi vinegar
1 tbsp vegan worcester sauce 
1 tbsp vegan sweetener (I used sweet freedom)
1 tsp sambal olek
1 tbsp oil
Whisk it together until a smooth paste is formed and pour over the sliced firm tofu. Allow to marinade for at least an hour if possible - I didn't but I will next time! Bake for 30-40 minutes.
I served the tofu with a simple noodle stir fry consisting of chow mein noodles tossed with sliced cavalo nero, fennel and roasted parsnips & carrots. I seasoned with ginger, garlic and chilli (the holy trinity) plus sesame oil, shoyu and ume vinegar. It was lip smackingly delicious in every way.
Please pardon the poor lighting in the set of dinner photos. As ever I was too lazy and too eager to eat to bother getting out either my tripod or my flash. That's life. That's reality. Dinner beckoned.
Phew!