What I Ate Wednesday
I'm in the middle of a Game of Thrones session here so I'm literally going to just list what I had to eat today - hope you don't mind!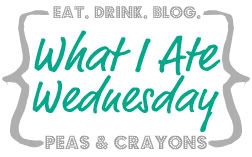 Breakfast
Oatmeal made with water, hemp milk and unsweetened apple sauce. Topped with chopped pecans, flaxseed meal, omega seed mix, amaranth pops, toasted desiccated coconut and fresh blueberries. I poured over a little rice milk to finish and a squidge (technical term!) of vegan sweetener.
It was delicious.
We also had a freshly brewed cup of black tea with a splash of soya milk.
Lunch
Baked potato (you can find my recipe for the perfect baked potato here) topped with lemon and coriander hummus, served with a huge salad consisting of little gem lettuce, peeled and sliced cucumber, grated carrot, spring onion and home made dressing.
So good
Mid Afternoon Snack
Medjool Date
Late Afternoon Snack
Rice cake spread with crunchy peanut butter and no added sugar strawberry jam plus another cup of black tea, this time served with a splash of oat milk.
Dinner
'Sausage' Risotto made with arborio rice, onion, a lot of garlic, peas, asparagus, spinach and sliced vegan sausage. I also herbed it up with oregano, thyme and fresh flat leaf parsley and stirred in a decent amount of nutritional yeast(loves it!). Oh, and lots and lots of cracked black pepper. Lots of it. And then some more.
OMG, this was beyond tasty, we couldn't get enough (om nom nom) - it was sooooo damned delicious. Will absolutely, without a shadow of a doubt, be making this again.
We also treated ourselves to a Blue Moon. We don't normally drink mid week but tonight I just felt like one and it was so nice and refreshing - the sliced orange is crucial!
Those were my eats:) Happy WIAW everybody, I look forward to reading all your posts xxx