What I Ate Wednesday
Chocolate Oatmeal made with 1/2 mashed banana, coconut milk, vanilla extract and agave nectar, topped with sliced banana, chopped walnuts, a dollop of smooth peanut butter, desiccated coconut, a splash of coconut milk and a little more agave.
Suffice to say, it was hmmmm hmmmm gooooood.
Lunch
Leftover brown basmati tossed with chopped tomato, beetroot, avocado, a little lemon juice, olive oil and plenty of freshly chopped parsley and seasoning. I also made some fried tofu, which I dredged in flour and seasoning and fried for several minutes each side until golden. I couldn't resist adding a few rolled up slices of vegan faux beef with a spoonful of dijon mustard.
It was pretty good but silly me, I forgot to take a photo:(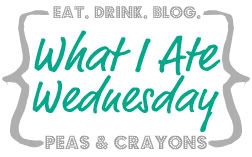 Snack
Apple.
No photo. What is with me today?
Homemade Muffins - erm, I ate two.
For the first time in ages I felt like baking but I didn't want to make something way out naughty, so even though these muffins contain sugar I also crammed in as much goodness as possible. I haven't named these muffins yet but they include....
pukka clean greens powder (which contains chloropyhll and spirulina)
matcha
maca
oats
chopped apple
coconut milk
....not bad, right?
They also happened to taste wonderful, especially with the glaze, which gave them a doughnut like quality - never a bad thing!
Dinner
Blackened Scrambled Tofu with Garlicky Grits (polenta), sauteed Cavolo Nero and half a Roasted Sweet Potato.
Well now, what can I say about dinner, other than WOW! Yet another triumph from the Post Punk Kitchen (original recipe here). I ever so slightly altered it by using green pepper in place of the tomatoes in the scrambled tofu, used cavolo nero in place of kale and the sweet potato was my own random addition just 'cause I fancied it.
It was mammoth but beyond tasty, so I cleaned my plate.