What I Ate Wednesday
ey! It's the pumpkin guy:)
Thought it was about time I wheeled out my Halloween decorations and this little guy is my favourite. I bought him when we were in beautiful Chicago and he takes pride of place in my kitchen.
This is my first WIAW in a while and I really missed it, so it's great to be joining in the fun again - yay!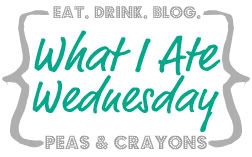 Without further ado, here are my Wednesday eats baby......
Breakfast
Polenta made with oat milk and sweetened with maple syrup topped with Jordan's Country Crisp Chunky Nuts and sliced kiwi.
Hot water and lemon
Lunch
Homemade mildly curried cauliflower and carrot soup served with a slice of toasted rye bread spread with hummus and vegan tapenade.
Snack
Cup of black tea with soya milk and two squares of dark chocolate with nuts.
Dinner
Noodle stir fry tossed in a homemade sweet and spicy peanut sauce served with maple glazed tempeh.
That was a pretty good days eating. Dinner was mega tasty and I really enjoyed my mid day indulgence - hmmmm, chocolate:)
Hope everyone else had (or is still having, depending on where you are in the world) a wonderful What I Ate Wednesday!!