What I Ate Wednesday
I'm sick:(
Sore throat, headache, zero energy, I hate it.
I'm not very good at being still so illness doesn't suit me and I have so much to do (like say packing!) that this cold is an inconvenient irritant. However, nothing was going to stop me from missing yet another WIAW. So, here I am, with a few dismal food photos in hand to show for my day on the couch - I feel like the shot of the sliced pears and lemon&ginger tea accurately reflect how I was feeling at that particular moment of the day. Drained and dark.
To perk myself up I decided to indulge in some Nigella (her shows never fail to cheer me) and even though I may be vegan, I still find her food fascinating and delicious. It doesn't hurt that she oozes glamour and sophistication and quite honestly I could listen to her poetic food musings all the day long.
Her writing is just as evocative and one of the reasons I often pull her cookbooks off my shelf. Sometimes just leafing through Nigella Christmas is enough to lift my mood and inspire me in the kitchen and that's exactly what happened tonight.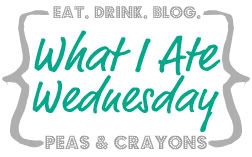 Despite having limited energy I found myself peeling, chopping, sauteing and stuffing some fabulous portobello mushrooms, which we ate between warm crusty granary rolls with a whole heap of potato wedges. Quite honestly it was a triumphant dinner and just what I needed to mend my slightly broken body - feed a cold and all that...
I'm seriously starting to fade now though so allow me to crack on with my daily eats.
Breakfast
Oatmeal made with water  and soya milk served with fresh blueberries, chopped walnuts, mixed seeds, flaxseed meal, hemp seeds and a squidge of golden syrup.
Lunch
Baxter's Carrot and Butterbean Soup (amazeballs for a tinned soup) served with toasted rye bread spread with hummus and a little thai sweet chilli dipping sauce.
Snacks
Sliced pear and a lemon&ginger tea.
Cup of black tea with soya milk and a rice cake topped with crunchy peanut butter and blackcurrant jam.
Dinner
Baked stuffed portobello mushroom 'burger' served on a bed of spinach leaves in a 'bake at home' crusty granary roll - I spread each side of the roll with hummus too. We also had a pretty large serving of wedges - frozen, bad girl. I am sick though.
Here's the rundown on the stuffed mushroom:
Ingredients
4 portobello mushrooms - peel and reserve the stalks.
For the stuffing
1/2 onion finely diced
reserved mushrooms finely chopped
1 garlic clove
1 tsp dried thyme
1/4 cup freshly chopped flat leaf parsley
1 slice of bread made into  breadcrumbs
vegan butter
olive oil
salt and pepper
method
Pre-heat the oven to 200 degrees celsius/390 fahrenheit.
Heat a tablespoon of oil and vegan butter in a skillet and add the onion. Season and sautee gently until it begins to soften. Mince the garlic. Add the finely chopped mushroom stalk to the pan and cook for a minute or two with the onion before adding the garlic and dried thyme. Season and allow to cook for a few more minutes.
Add the breadcrumbs and a further tablespoon of vegan butter and take off the heat. Stir in the chopped parsley, season and mix until thoroughly combined.
Using a small spoon divide the mixture between the four mushrooms and pack tighly using the back of the spoon or your fingers. Place on a lightly greased baking sheet and bake in oven for 30minutes.
Serve!